Music is as much a part of the human experience as our feelings, behaviors, and our responses to others. Music is attached to our traditions, allows us to celebrate ourselves and others, can help us to connect to new people, and offer us a way to express how we are feeling. Music can even be an avenue to aide us in healing from our struggles. Recognizing this impact, Rogers Behavioral Health includes Music Therapy as part of the diverse Experiential Therapy groups offered to patients.
Experiential Therapy (ET) offers a myriad of opportunities for patients to make personal self-discoveries through interactive activities that connect the body and mind. At Rogers Behavioral Health, our ET department offers a multitude of platforms for patients to engage in their recovery, utilizing strategies such as: Art Therapy, Horticulture Therapy, Music Therapy, Recreational and Play Therapy, and our newest endeavor, Canine Assisted Intervention (formerly called Pet Therapy).
Recently, Rogers Behavioral Health Foundation helped fund the purchase of new drums and other instruments for the Experiential Therapy department to work with during Music Therapy groups, led by Lindsey Teuteberg, MT-BC, WMTR. Lindsey tells us how these instruments can help patients work through their often-difficult feelings.
 "Sometimes, we use the drums to tell stories from our lives and we change the outcome of the situation by re-storying," Lindsey said, "For example, exploring anger by musically recreating a situation from the past – 'what did it feel like, how did others respond?' We can re-story and change the ending by thinking about what we would have wanted to change in that moment, which in turn allows for more interpersonal insight."
These treatment interventions involving expression through music can help patients to connect with their coping skills in future situations and prevent them from falling back into behaviors which reinforce problematic thinking patterns.
The same way that a diagnosis can look different for each individual, connecting to treatment can require different modalities for each patient, as well. Music Therapy is just one avenue of ET which helps patients to build skills they might not otherwise practice in regular treatment settings. ET utilizes a hands-on approach with therapeutic techniques based on interactive experiences, and for some patients, this ability to express themselves is essential.
Lindsey tells us, "Patients have expressed value in the sensory/tactile stimulation of the drums. Often, the more debilitating mental illness becomes, the more we limit our awareness to our minds, and we neglect our connection to our bodies, so drumming helps to reawaken and strengthen the mind-body connection."

Another benefit, Lindsey adds, is the acceptable and encouraged release of energy in an innocuous way.
"Patients also say that sometimes it just feels really nice to hit something that is okay to hit. They can exercise emotion in a cathartic way that is also healthy and safe."
Treatment teams and patients alike also see the advantage of ET in the way it allows patients to connect with their peers and learn the significance of unity.
"When we entrain in rhythms together through musicking, our brain waves also mirror each other, so drumming within the group setting also encourages greater connection between others, building a more supportive milieu and community."
Learn more about Rogers' music therapist, Lindsey Teuteberg, MT-BC, WMTR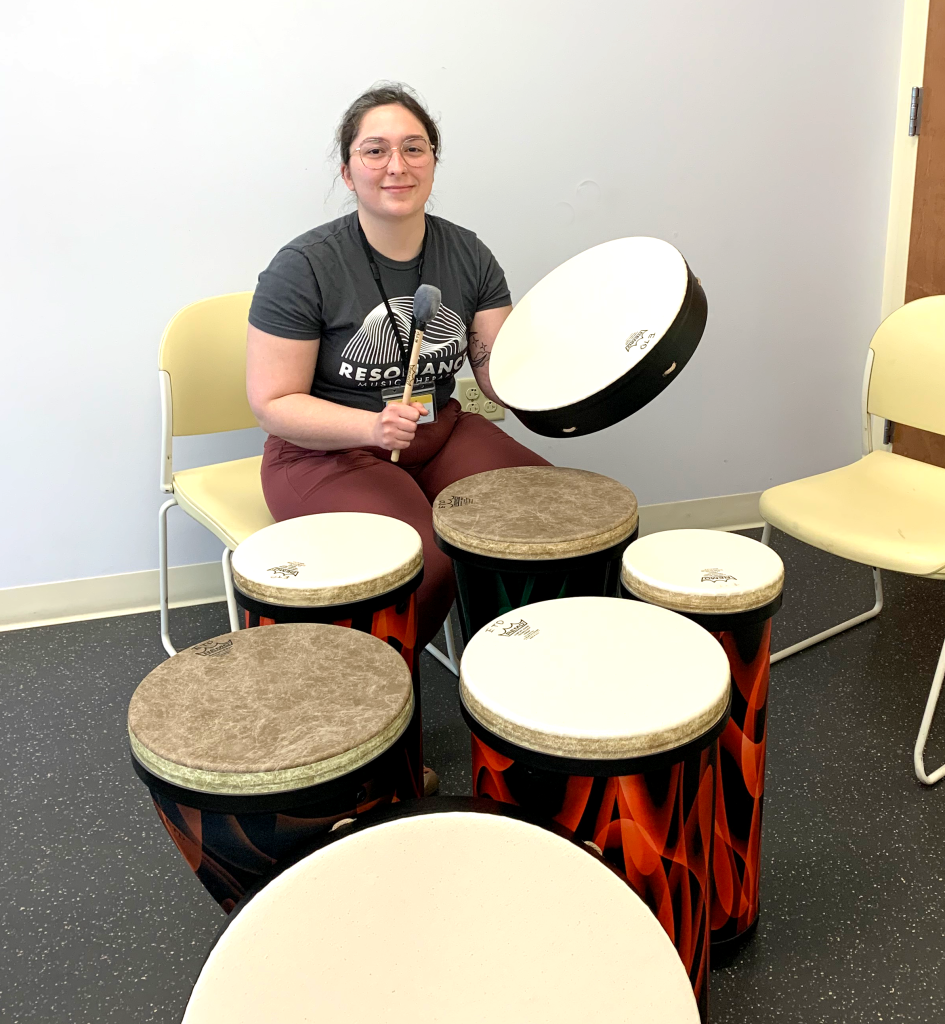 What is the inspiration behind your involvement in the field of Experiential Therapy?
"Music is something that has always been one of the most significant factors in my life. I have used music as self-expression for as long as I can remember. I always think of one instance in my childhood, I was inside the house listening to a CD, and I was singing along so loud and passionately that my dad, who was working outside, rushed into the house because he thought I was crying/screaming, which may or may not be a compliment depending on how you look at it!
Teenage years were really hard on me. My parents divorced and I experienced some traumatic things. Through it all, I turned to music as my primary coping skill, whether listening to specific songs that I needed to hear in a given moment, learning and playing instruments, writing songs/poetry, or developing my vocal skills.
When I discovered music therapy as a real profession in high school, I immediately knew that I wanted to use music to help others in bettering their mental health and overall wellbeing. I got my Bachelor of Music in Music Therapy from Carroll University, and I have one semester left of graduate school at Slippery Rock University where I am finishing my Master of Music Therapy with an emphasis in Counseling, and I have grown to adopt a more holistic and feminist mindset."
At Rogers Behavioral Health Foundation, one of our missions is to support the already existing programs within Rogers Behavioral Health, to expand our clinicians' ability to serve our patients. The donation of drums and instruments to the ET department, Lindsey says, will allow patients the opportunity to be more engaged in groups,
"Before we had these drums, I was really limited in the ability to offer patients the opportunity to engage in making music. I had to rely more on recorded music or being the sole performer of music. It feels more collaborative when they are able to engage in making the music and take the lead for themselves. They really get to be the one in charge of their recovery in those instances."
With the way music is widely utilized and accepted within our society and the availability of it to just about anyone, anywhere, the impact of Music Therapy on our patients can have profound, lasting effects.
"Creative expression is known to make us feel happier and healthier, and music is also something that is accessible to most of us in some form at just about any time. Working with a credentialed music therapist provides people the opportunity to learn the ways in which music can aid in their health and wellbeing, so they can carry those skills with them throughout their lives."
Hearing the positive impact on patients of even the smallest donation is music to our ears!