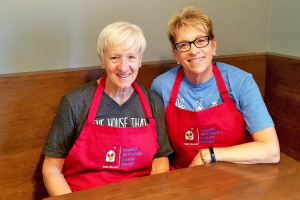 Rogers Foundation is asking for your help in finding volunteers to support families going through treatment at Rogers Behavioral Health!
"How can I get involved?"
This is one of the questions Rogers Foundation receives the most, which is why we are thrilled to add a NEW opportunity to our list of responses. Our partner, Ronald McDonald House Charities of Eastern Wisconsin, is seeking volunteers to help create a warm and welcoming environment for guests visiting the Family Room at Rogers Behavioral Health's new Ladish Co. Foundation Center on our Oconomowoc, Wisconsin campus.
Volunteers will assist with greeting and checking-in families and maintaining a clean, well-organized and adequately stocked Family Room. One four-hour shift is required every other week with at least a one-year commitment. Must be 18 years of age or older to apply.
How does the Family Room support Rogers' families?
The Family Room serves as a safe, comfortable space free of stigma and judgment for family members to take a break from the stress of the treatment environment. Here, they can conduct business, relax, have a snack, watch tv, entertain younger siblings, and even take a nap. Whether awaiting the confirmation of admission, coming in early for a visit, or passing time until day treatment concludes, loved ones are invited to take advantage of the Family Room's amenities.
Volunteers are overseen by Ronald McDonald House Charities, and we want to ensure they have the most caring and compassionate volunteers to serve our patient families!
Learn more and complete the online volunteer application today!
Please help by passing on this information to someone else you know who can lend a hand and offer a kind heart to our families.