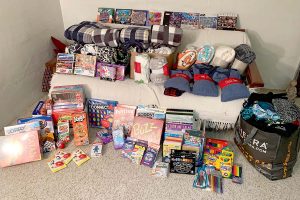 Sometimes, it is with a heavy and honorable heart that our donors give to us to help provide Rogers' patients with a peaceful and comfortable holiday. Jill Hazod, Rogers Behavioral Health Foundation board member, has been donating gifts to the annual "Give for a Better Day" Holiday Gift Drive to honor her brother, a former Rogers patient who passed away in 1992 of suicide after a long struggle with bipolar disorder and alcohol and drug dependance.
"Just knowing that these patients who are away from their families and are in treatment are getting something personal and getting to have a holiday celebration, that's why I do this," Jill remarked.
Jill cites her brother's memory and his struggles with mental health as the reason she became an advocate for mental healthcare and became involved in Rogers Behavioral Health Foundation, of which she's been a board member for six years. One year, while enduring some personal struggles around the holidays, Jill states, "Instead of feeling sorry for myself, I wanted to do something for someone else."
When considering the madness that can come from the holiday shopping and the many parties involving gift exchange, Jill had the idea to host an event involving gathering gifts for a cause close to her heart – the patients at Rogers Behavioral Health.
Thus began the tradition of what Jill considers, "a sort of birthday party for me," where she invites women to join her at the American Legion Hall to celebrate the spirit of the holidays and the joy of giving back. Through the hosting of the event, the Sons of the American Legion Squadron 294 became interested in Rogers' mission, even donating to Trauma Recovery adult residential care, with their hearts set on helping veterans struggling with PTSD. This just goes to show that a kind heart can be contagious and the joy of giving back can set off a chain reaction with its impact touching more lives than one could imagine.
For Jill, the highlight of this annual event is the opportunity to connect with others who have been touched by mental health and addiction.
She explains, "By being open about my experience and being on the Foundation board, this event creates a safe, open space for others to begin talking about their struggles. People need to know that they are not alone. By sharing my story, not only has it helped me to heal, but I've been able to help others heal, as well."
There is no question that Jill's advocacy and support of Rogers Behavioral Health Foundation's mission has impacted and helped the community both inside and outside of Rogers. The beauty of giving back is often inspiring others to pay it forward, as well, "This year someone even donated in my brother's name – I've never had anyone do that. Through donating I feel like I get to keep my brother's memory alive."