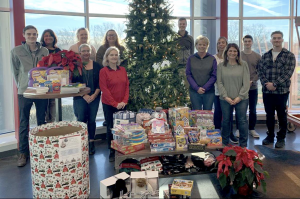 One of the values that guides Lakeland Supply, Inc. and its employees is gratitude, "I am grateful for all I have. I appreciate others around me and let them know by saying thank you or showing them in other ways."
Year after year, one of the ways Lakeland Supply shows their gratitude is through donating to Rogers Behavioral Health Foundation's "Give for a Better Day" Holiday Gift Drive. Jessica Menden, administrative specialist for Lakeland Supply, said of the Holiday Drive, "Lakeland loves participating in this local organization. Some of us know people who have benefited from Rogers, and we enjoy giving back to Rogers."
Lakeland Supply has been a vendor for Rogers Behavioral Health for over two decades now, providing janitorial supplies to keep the hospital and its outlying buildings stocked with essential items for our facility's functioning. Vince Schmidt, owner of Lakeland Supply, and his company have also been a sponsor of our annual Women's Gathering since 2013.
Rogers Behavioral Health Foundation's annual Holiday Gift Drive provides gifts during the holidays to patients across the state of Wisconsin who are receiving treatment at any level of care within the Rogers Behavioral Health system. Through donations from companies like Lakeland Supply, patients enjoy a reprieve from the stress of mental health treatment; these gifts allow our patients to have a warm and joyous holiday, even when they are away from family and loved ones.
Lakeland Supply's continued support of Rogers Behavioral Health Foundation and our mission, including their annual participation in the "Give for a Better Day" Holiday Drive, shows that gratitude truly is an action.