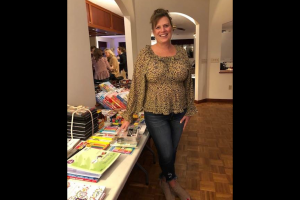 Help make the journey to recovery easier for patients at Rogers Behavioral Health. donations of new, unused items and gift cards go a long way to lessen anxiety, increase comfort, and brighten the holiday season for patients and families.
Last year, close to 800 children, teen and adults throughout Rogers' Wisconsin locations received gifts, thanks to organizations and businesses that held a "Give for a Better Day" holiday drive. Many people do not realize the extent of young patients served by Rogers whose severity of symptoms will make it unlikely that they will return home in time for the holidays, or whose family resources will make it prohibitive to participate in the gift-giving season. This can be an emotional time for many people, and it is especially so for those who may already be struggling with such mental health challenges as depression and anxiety.
Bring smiles to patients at Rogers
Your donations of toys, arts and crafts, gifts cards, and more will bring joy to patients and relief to parents. Please print the 2021 Holiday Gift Drive Wish List and coordinate your own holiday drive, or talk to your employer or civic organization about showing support for mental health and wellness by designating Rogers Foundation as the recipient of their charitable giving this season.
The holiday gift drive benefits  patients throughout all Rogers Behavioral Health locations throughout Wisconsin. Because our patients have special requirements, please read the gift criteria prior to purchasing your gifts and only select gifts from the recommended list of items.
All donations are due to the Foundation office (24700 Valley Road, Oconomowoc, WI 53066) by December 3, 2021 in order to ensure there are a varity of gifts for the various age groups and enough time to distribute them to the programs.
The Foundation will provide you with assistance when organizing your holiday gift drive. Click here for the 2021 HOLIDAY GIFT DRIVE WISH LIST Contact Linda Schieble to let her know that you're interested in holding a gift drive and to coordinate drop-off.
THANK YOU!