Sometimes, little things make a big difference!
For patients at Rogers Behavioral Health, your gifts go a long way in providing for the basic necessities
of life and easing financial burdens that may accompany the road to recovery. Help improve the lives of our patients on a personal level.
This giving season, will you please consider Rogers for your charitable giving?
Please let us know when you plan to hold a gift drive and which Rogers' location you'd like to support. Contact Linda Shieble in the Foundation office at 262-646-1652 or linda.schieble@rogersbh.org.

Set out a drop box with our Wish List flyer.
Display the Wish List flyer next to a drop box (barrel, box, etc.) and invite your friends or colleagues to bring in items during a designated timeframe. Have the items delivered to the Rogers location of your choice.


Purchase items from our Amazon Wish List.
For your convenience, an Amazon Wish List has been created.
– Go to the "gifts and registry" area in your Amazon account.
– Search for Rogers Behavioral Health Foundation in the "gift list" category.
– Select "Angel Fund Wish List."
– At check-out, choose to send items to yourself for an in-person gift drive or ship items directly to the Rogers location of your choice.


Collect cash gifts.
Outright donations assist the Foundation in filling in the gaps and allowing us to purchase specially requested items as requested by the clinical teams. Interested in making a cash gift? Contact the Foundation office at 262-646-1651 or email infofoundation@rogersbh.org.
Download the 2023 Angel Fund Wish List flyer
Donations of new, unused items or monetary gifts go a long way in making the overall treatment experience more comfortable, reducing anxiety, and brightening someone's holiday season. Our patients have special requirements, so please consider the following when selecting your gifts:
Ages 10 years and up
All items must be new
No games with themes of violence
No items containing Latex or sharp edges
No items or gift cards with religious themes (Christmas/Hanukkah/etc.)
Do not wrap items

Choose gifts among the following categories:
clothing and comfort | gift cards ($10) | school supplies | personal needs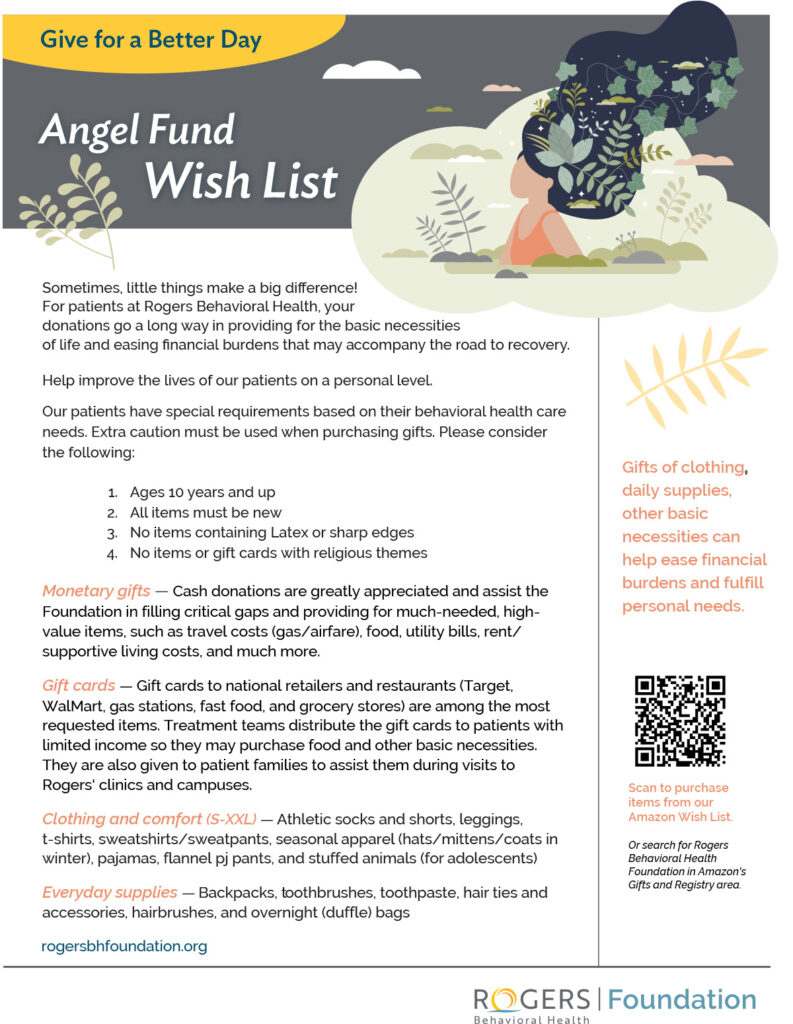 For questions or inquire about hosting a gift drive, contact Linda Schieble at 262.646.1652 or Linda.Schieble@rogersbh.org.
Anyone can host a gift drive! Here are a few examples:
Individuals
Businesses and corporations
Schools and school organizations (ex. National Honor Society, Student Council, etc.)
Churches and youth groups
Community service clubs (Women's Club, etc.)
Retailers
Fitness clubs
Annual friend/family gatherings
And many more!