Article by Stephen Fletcher, Career Planning Consultant at Rogers Behavioral Health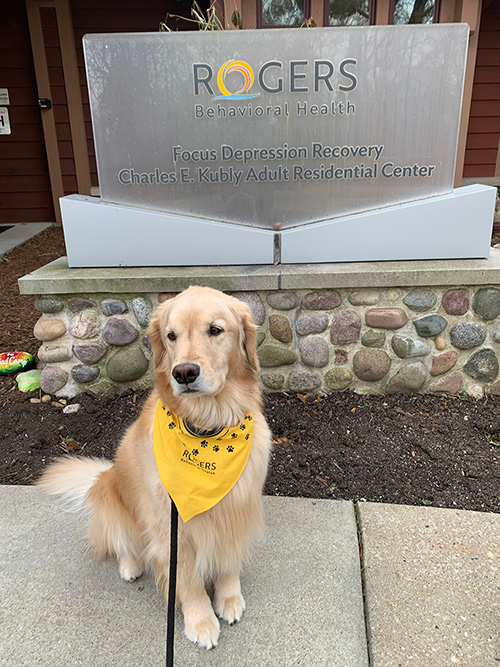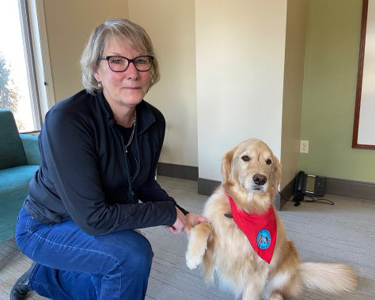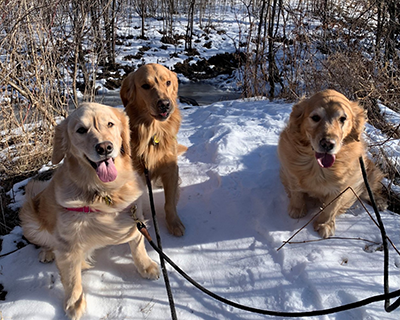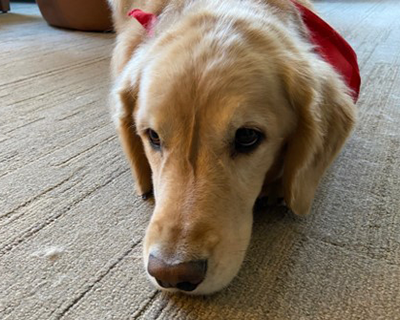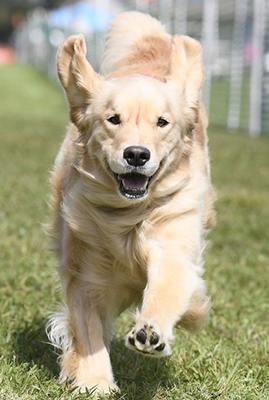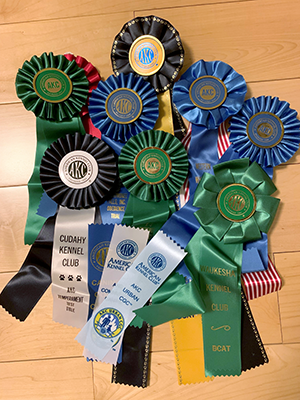 In February, I had the opportunity to interview Kenzie, a golden retriever therapy dog that provides support for our residents and staff at Focus Depression Recovery Charles E. Kubly Adult Residential Center at Rogers Behavioral Health in Oconomowoc, Wisconsin. Kenzie shared insights about her role and the training that helped her to be a success.
Author's note: Admittedly, my canine language skills are a little rusty. The grammatical structure was more challenging than I thought it would be. Adding to the challenge was Kenzie's strong Scottish accent. However, my three years of high school golden retriever came in handy. With a little help from Google translate, I was able to engage in a meaningful conversation.
Personal story
I understand that "Kenzie" is just your short name and that your full name is much longer.
Arf howl whimper whine snurf growl arf whine sigh.
Translation: That is correct. My full name is Red Oaks Xanthos Mackenzie, Lady of the Highlands CGC CGCa CGCu BN THDN TKN ATT CA BCAT DCAT. But my friends call me Kenzie.
Your owner (Nance Wolf) says you have a birthday coming up and that you will be turning 5 in June. What do you think about the whole "dog year" thing?
Snort whimper groan bark growl grunt bark sigh grunt grunt yip.
Translation: It's overrated. You are only as old as you feel.
Are you the only dog in the Wolf residence?
Kenzie, Mazie, and MacBark growl groan growl grunt woof whine howl.
Translation: No. Mazie and Mac, also golden retrievers are part of the family.
If you were going on a road trip with another dog, who would you go with and where would you go?
Sigh arf growl bark yap snort snurf arf sigh.
Translation: I would go with Air Bud, the golden retriever. Where we go does not matter as long as there is water.
Favorite dog movie is…
Growl whimper whine woof erf whimper yip arf whine woof growl whimper.
Translation: Actually, we cannot watch TV or movies, especially if there are animals involved. We all get way too excited. Mac goes ballistic when he sees the Chevy commercial with the dog in it or any type of commercial that has water.
Favorite treat…
Groan bark snurf yip.
Translation: Anything! But my absolute favorite is ice cubes.
When no one is looking, I like to
Bark howl howl whimper snurf whine sigh snurf whine snurf whine.
Translation. Counter surf. Not proud to admit it, but one time I got up on the counter and gobbled down a whole loaf of naan bread dough. Let's just say it was not a good day at the Wolf residence!
Dog food – wet or dry?
Grunt woof yap yip bark whine growl howl whimper woof snurf arf whine snort.
Translation: Dry.
Fetch a ball or chase a Frisbee?
Bark growl.
Translation: Ball.
Last one. Cats are (A) fellow domesticated creatures worthy of love and affection or, (B) just another ball of fur competing for attention and resources.
Bark whine snurf growl bark groan groan arf woof.
Translation: Just another ball of fur competing for attention and resources.
Career development tips​
If you could go back to puppy school and give yourself one piece of advice, what would it be?
Howl whimper bark groan yip howl sigh yap groan yap whine yap yip groan yip whine yap snurf arf whine growl howl sigh arf.
Translation: My mom did a lot of training with me at different places which I liked and especially the good treats. The only other thing I would have done differently would be to get a personal trainer to help me work on fine tuning my skills. I like riding in the car and going to different places, exposure to a variety of new environments* is also very important.

* Translator's note: the golden retriever word for "environments" is phonetically very similar to the golden retriever word for "spaghetti sauce." Based on the context, I believe that "environments" is the better translation.

What was puppy life like for you?
Snort snurf snort grunt howl erf arf whimper bark yip yip sigh snurf bark yap bark arf yip grunt arf whimper.
Translation: I was very independent. I have always known what I wanted and if that means barking at the fridge until I get an ice cube, that is what I am going to do.
How did you ever get into being a therapy dog?
Grunt growl snurf growl snurf yap bark sigh erf growl grunt yap grunt sigh growl whine yip snurf grunt groan whine.
Translation: My owner always wanted to volunteer in the community and have a therapy dog be a part of that experience. She explained to the breeder that she wanted a puppy with a therapy dog temperament, and I was selected. Now we volunteer through Therapy Dog International.
From what I understand, you have had extensive training. What was that experience like for you?
Yip yip groan yap growl yap whimper howl grunt growl growl arf erf groan snort yap erf erf yip howl woof bark sigh howl.
Translation: Mac and I have been through obedience school including puppy, beginner, and advanced obedience training including Canine Good Citizen. Then on to beginner novice and novice training. The training helped me earn my AKC titles such as Canine Good Citizen, American Temperament Test, Therapy Dog Novice, BCAT, DCAT, and more. (The full list of certifications and trainings are provided below.)
Has there been anything that you feel has stood in the way of your career development?
Howl yip erf whimper sigh snurf yip yap whimper growl howl erf snurf snort whimper yap whine grunt.
Translation: Elevators. They are so weird. Are we going up? Are we going down? The motion can sometimes really freak me out. Dogs in general are not big fans of elevators.
Last question: back scratch or belly rub?
Snurf grunt yap yip.
Translation: To tell the truth, a good scratch on the rump is always appreciated.
Translator notes:
Golden retriever is a spoken, not written language. Much is lost in the translation to English.
All translations are concept-for-concept, not word-for-word renderings.
Spoken golden retriever utilizes several non-verbal concept separators between almost every word. They function much like a comma but are generally overused and have been omitted in this article for the sake of simplicity and clarity.
Kenzie's titles and certifications
Advance Starter Novice
American Temperament Test
BCAT (Fastcat)
Beginner Novice
Canine Good Citizen
Canine Good Citizen Community
Canine Good Citizen Urban
CA (Coursing Ability Test)
DCAT (Fastcat)
Starter Novice
Therapy Dog Novice
Trick Dog