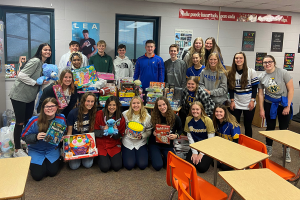 With the opening of the new clinic and supportive living center in Sheboygan, Wisconsin, Rogers Behavioral Health Foundation was grateful to welcome a new donor to our annual 'Give for a Better Day' Holiday Drive – Howards Grove High School's National Honor Society.
The school's National Honor Society chapter donates gifts every year to their local foster care system. This year, they expanded their efforts to support even more members in their community, says Olivia Bramstedt, a representative from the school.
 Every holiday season, our National Honor Society Chapter at Howards Grove organizes a Toy Drive to benefit the children of the Sheboygan County Foster System. However, this year we had a member of our club come across one of your flyers and requested we donate to your organization. Therefore, we compromised and decided to split the donated items between both the Foster System and Rogers!
This generous donation from the students and faculty of Howards Grove is both touching and fitting, as Rogers Behavioral Health opened our new Sheboygan outpatient clinic in July and first-ever supportive living facility just this month. About the opening of these new ventures for Rogers, Lee Gentine, a mental health advocate and local to the Sheboygan area said, "When you're struggling with mental illness or addiction, it can feel very lonely, but they are not things to be suffered through on your own. There are so many people who can and who want to help. I'm so proud that those who are suffering can now get that help right here in our community."
To incentivize their holiday drive, the school held a competition to see which classroom could collect the most gifts.
Our Toy Drive ran for one week (Nov. 29th – Dec. 3rd). We advertised the week prior to the collection date by hanging posters around our school, making announcements over the loudspeaker, and presenting information to individual classes to inform our school. We physically collected the items over the course of two days. The exciting aspect of our Toy Drive was it was a school-wide competition. We awarded different point values to each item. More expensive items = more points, etc. The class with the most points win and is awarded a prize. Not only was everyone motivated to donate to this great cause, but also by the provided incentive!
Thanks to the students and staff of Howards Grove High School in Sheboygan, Rogers Behavioral Health patients will enjoy a brighter and more comfortable holiday, despite the challenges of treatment, and for some of our patients, being away from loved ones.